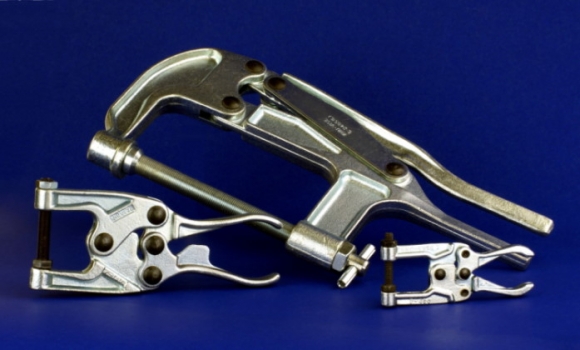 Great clamps and the applications they are used for, are key to properly finishing a job. At Lapeer Manufacturing, we offer a wide variety of great clamps to choose from.  In addition, our clamps are sturdy and durable for use in many industries. We will take a look at some of the top five clamps and their uses starting with a squeeze clamp.
The C-Clamp
First of all, the c-clamp is one of the oldest and most reliable clamps on our list. From metalworking to a handyman, the c-clamp has multiple uses. C-clamps are designed to handle much more than the plier style clamp. Also, the c-clamp is designed to be portable or mounted. C-clamps are available in a wide variety of openings and  depths.
The Plier Squeeze Clamp
When you need a clamp with portability in mind, the plier clamp is your clamp of choice.  One of the best benefits of plier clamps is that they can be used with just a single hand. Some of these pliers also come with an optional unlocking lever as well. These type of clamps are especially useful in the welding industry.
The Hold-Down Toggle Clamp
Next on our list of great clamps and applications is the Hold-Down Clamp. The hold-down clamp is used to apply downward clamping force. The handle can be locked usually in a horizontal or vertical position. These type of clamps are used in anywhere from automotive to aerospace industries.
Linear Action Clamps
In addition to the other great clamps, the linear action clamps are used to push or pull one object against another. These clamps are used in industries such as mechanical engineering and automotive.
Air Operated Pneumatic Clamps
Finally, on our list of great clamps are the air operated pneumatic clamps. These clamps are usually mounted on a surface and are designed as hold-down clamps with long life cycles. They are great for heavy industrial use.
This is just a small sampling of the high-quality clamps that Lapeer Manufacturing can provide you and your company. We are the industry leader in clamp manufacturing and we ship to all over the country, to places such as New York, Pennsylvania, and Ohio to name a few. So contact us today and see what Lapeer Manufacturing can do for you.