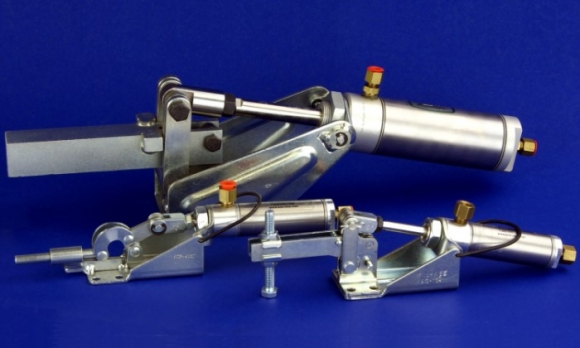 Pneumatic clamps are toggle clamps that uses double acting pneumatic cylinder. Air pressure is applied to provide the clamping pressure. At Lapeer Manufacturing we have two different brands of pneumatic clamps. We offer Wolverine Pneumatic Hold Down Clamps, Knu-Vise Pneumatic Hold Down and  Knu-Vise Pneumatic Linear. In addition, our Wolverine pneumatic hold down clamps are intended for projects requiring a longer life and a much higher clamping force.
Not only do we offer Wolverine pneumatic clamps, we also have cylinders available for purchase as well. Also if you need to replace the clamp it self, we offer a whole line of replacement clamps for your Wolverine clamp. Our strong, durable Wolverine clamps are designed to handle the toughest jobs.
Knu-Vise Pneumatic Clamps
Our Knu-Vise pneumatic clamps are available in two options, Pneumatic Hold Down and Pneumatic Linear. The hold down clamp are built for a more heavy duty work load. Also they come with a solid toggle bar and can handle 200-400 lb capacity.  The Knu-Vise linear pneumatic clamps are available in a push style clamp. Also these clamps have a horizontal mount with a 200 – 400 lb capacity.
Air operated clamps are used in a wide variety of industries through out the country. Also industries such as industrial, military, automotive and many more. You may have questions about clamps or air operated clamps, please visit our FAQs page for answers on many clamp related questions.
At Lapeer Manufacturing we offer a extensive line up clamps that benefit all sorts of industries. Furthermore, our Wolverine brand handles a more heavy duty type work load. While our Knu-Vise clamps are for lighter more repetitive jobs. Also Lapeer has been providing clamps for over 50 years and we provide some of the best clamps on the market today. We manufacture the most durable and reliable clamps around, give us a call today, 1-800-826-1428 to see what we can do for you!