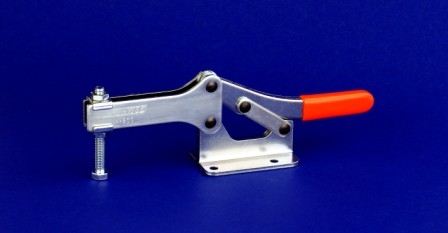 When you are looking for a horizontal toggle clamp or a pneumatic clamp, it is good to know the differences in the styles of clamps. Also, knowing what brand of the clamp and what size job you are doing helps as well. A horizontal toggle clamp is a clamp where the handle is in a horizontal position to remain closed, such as the picture above. In addition, to unlock the clamp you would simply lift the handle.
A horizontal toggle clamp is also sometimes referred to as a horizontal hold down clamp. Our Knu-Vise line of stainless steel horizontal hold down clamps are rugged and durable. While our line of Wolverine Hold-Down Action clamps are for the larger jobs.
Knu-Vise Horizontal Toggle Clamp
Our Knu-Vise line of toggle clamps is the original line of clamps we have been offering since the beginning. Also, our Knu-Vise clamps range in a large variety of holding capacity.  Holding capacities range from 100 lb all the way to 2400 lb. Holding capacity is the maximum force that each clamp can withstand in a locked position. We have the right clamp for your job. Not only are we the nation's leading toggle clamp supplier, but we stand by our product.
Furthermore, our toggle clamps are available with a flanged base, slotted toggle bar or an open toggle bar. With such a large selection of toggle, pneumatic, positive locking clamps, the best option for clamps is Lapeer Manufacturing. Do you or your company need a tax exempt status? No problem, at Lapeer we can help with tax exempt orders. Are you looking for 3D downloads? Those are also available from Lapeer Manufacturing.
We have everything you need for your next order of toggle clamps. If you have questions or would like to place an order you can contact us today or give us a call at 1-800-826-1428 and we can help you!