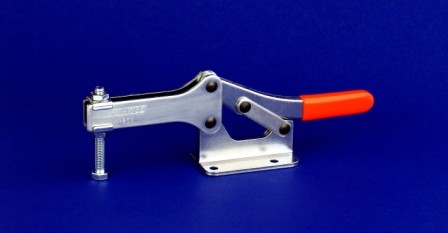 Located in Lapeer, Michigan, Lapeer Manufacturing has been producing quality horizontal hold down clamps in Michigan for decades. These quality clamps have been in hi-demand and provide a strong durable clamping action that is useful for many industries. First of all, in this type of clamp, the handle moves into a horizontal position opposite of the vertical positions of other clamps.
When a horizontal hold down clamp is used the handle and the clamping arm move in opposite directions. The toggle bar will move towards the work piece as the handle is moved down. Our Knu-Vise horizontal hold down clamps are also available in stainless steel.  Lapeer's clamps are used in many industries across the country  and are some of the most reliable clamps you will ever own.
Our Knu-Vise hold down clamps have a holding capacity that range from 100 lbs all the way to 2400 lbs. They come with a mountable flanged base and a open, solid or slotted toggle bar. You can also choose from a straight base, weld base or a threaded base for your clamp as well.  For more heavy duty uses, our Wolverine line is tough enough to handle the job. A Wolverine hold down clamp comes with your choice of a weld-on or flanged base with a solid toggle bar.
Purchase Horizontal Hold Down Clamps
While Lapeer Manufacturing offers both Knu-Vise and Wolverine hold down clamps, we can help you decide which one is best for you. If you are looking to place a volume order, please fill out our volume request form. If you have more questions on clamps and their uses visit our FAQs page. We answer most of the asked questions about clamps. If you still have more questions about horizontal hold down clamps or any clamps in general feel free to give us a call at 1-800-826-1428 or use our easy contact form. We are always eager to hear form our customers and can answer any questions you might have about clamps!