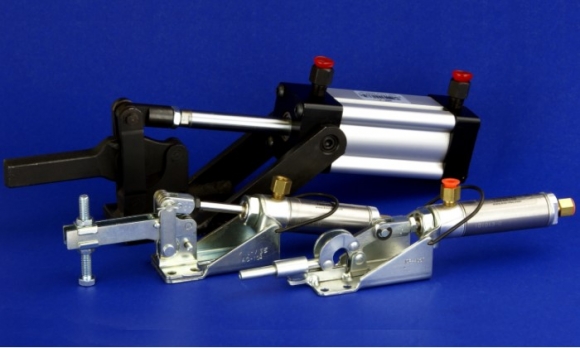 Lapeer Manufacturing is one of the premiere clamp manufacturers in the country. With top brands such as Knu-Vise and Wolverine it is no wonder why Lapeer Manufacturing is an industry leader in clamps. Furthermore, our long rich history of manufacturing clamps started over almost 70 years ago.
Today we produce a wide variety of clamps for a multitude of industries such as automotive, aerospace and electrical just to name a few. Lapeer provides quality products at a reasonable price. Other clamp manufacturers can not come close to the quality and dependability of a Lapeer clamp. Our brand of clamps have been refined and improved upon for years, providing the best possible clamp for any situation.
Our Knu-Vise line offers clamps such as hold down, linear, squeeze and air operated. Also our more recently acquired Wolverine line offers air operated, hold down and linear clamps for more heavy duty jobs. No matter if you purchase a Knu-Vise or a Wolverine clamp, you can rest assured that you purchased one of the best clamps on the market today.
Clamp Manufacturing
All our brands of clamps are manufactured with the highest quality and durable materials. Also our clamps are heat-treated and quality inspected to provide the most reliable and long life clamps. Lapeer Manufacturing offers different finishes for our clamps. For a majority of the clamps they have a Blue-Brite zinc finish. This type of finish conforms to government specification QQZ325 Type I Class III environmental standards. The Wolverine clamps have a Black Oxidized finish which is in accordance to the ASTM D769.
With Lapeers extensive experience it is no wonder why we are one of the nation's best at clamp manufacturing. Please take your time and view are large selection of clamps. Finally if you would like to receive more information on the clamps we offer or would like to place a special order, please use our request quote and we will respond as soon as possible!