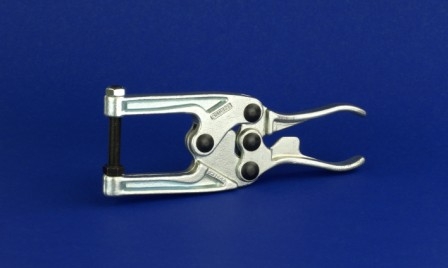 Regardless of what industry one is working in, there are just some things that our fingers cannot grasp and our strength is just too weak to get the job done. Sometimes we need help of tools such as plier clamps to get a firm, strong grip on materials. Plier clamps, also known as squeeze action clamps, manual toggle clamps, or portable clamps, are used to firmly grasp objects. Common uses of plier clamps include:
Welding
Bending
Compressing
Plier clamps from Lapeer Manufacturing are offered in a variety of depths, jaw openings, or spindle options. All plier clamps have the option of being equipped with an unlocking lever. Which allows the clamp to be release easily with just one hand.
Uses of Plier Clamps and Why choose plier clamps?
The versatility of using plier clamps is one of their key benefits. While grasping the handle you can easily maneuver the object being held as if you were holding in your own hand. This allows for precisions while welding, bending, or compressing objects. No need to worry about plier clamps losing their grip, Lapeer Manufacturing's plier clamps are the best at providing a secure grip until handles are pulled apart or the unlocking lever is released.
Lapeer Manufacturing offers plier clamps superior to other brands. Their ability to hand high heat due to their forged steel alloy clamps attracts many, as well as their superior strength. With a large selection of sizes, plier clamps are offered for any application, holding a max capacity of up to 2400 lbs.
Varients of plier clamps available at Lapeer Manufacturing include, but are not limited to:
Dual spindle pliers
Drop jaw dual spindle pliers
Drop jaw plier clamps
Extended plier clamps
Drop jaw extended plier clamps
For more information on plier clamps at Lapeer Manufacturing, or to find out which plier clamp option is best for the job at hand contact our professionals today.
Visit our friends at BTA Heller for deep hole drilling solutions.