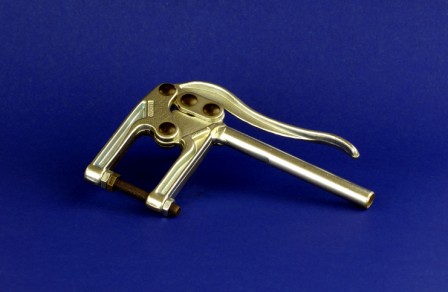 C-clamps have a multitude of uses in a variety of industries. C-clamps are sometimes referred to as a G-clamps or G-cramps, the name is a result from the overall look of the clamp. The clamp itself can look like a C, hence the name. C-clamps are typically used to hold two objects together. Technically there is a difference where G-cramps (from the word Cramp Iron) are devices that uses a screw mechanism to force together objects. However, they are often used interchangeably. C-clamps are usually considered very similar to Pliers, but c-clamps are physically larger and can handle larger work loads.
If you are looking for C-Clamps, then you have come to the right place. Lapeer Manufacturing Company in Michigan, has two product lines with considerable on hand inventory of c-clamps, that you may need for your next project.  The great thing about c-clamps is that they are portable, yet can be easily mounted to a work area if needed.  As a leading supplier of c-clamps in Michigan, the midwest, the U.S. and Internationally, we have the clamps you need and can fulfill small or large orders with corresponding price points.
Reliable C-Clamps
Our c-clamps are available a wide variety of jaw openings and depths. Lapeer Manufacturing c-clamps also come equipped with a lower and upper spindle for adjusting clamping thickness. Our clamps can handle all sorts of capacity from 1200 lbs to 2400 lbs, we have reliable and durable clamps. Of course, Lapeer Manufacturing offers a wide range of clamps, not just c-clamps. We also carry  Air Operated, Hold Down, Linear, Squeeze and much more!
With such well known brands as Knu-Vise and Wolverine Tool, you can be assured that Lapeer Manufacturing Company provides high quality, heavy-duty C-clamps at competitive prices.
If you are ready to order C-Clamps, view our extensive clamp products online where you can purchase directly or give us a call at 800.826.1428 and see why Lapeer Manufacturing Michigan a U.S. manufacturer, is the best place to purchase all your clamps!
Use our clamp selector guide to find clamps and accessories by several different factors.