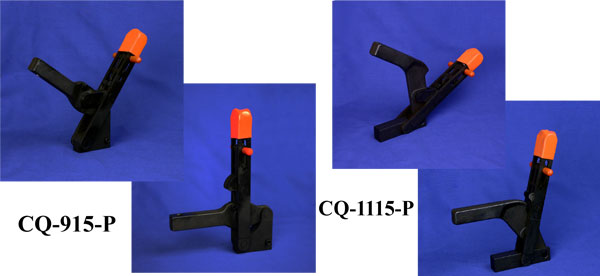 Lapeer Manufacturing Company would like to introduce the all new (patent pending) CQ-915-P and CQ-1115-P locking clamps. These clamps are made 100% in America with durable quality construction. These locking clamps are our newest edition to our "P" series that features our new safety locking system.
The CQ-915-P and the CQ-1115-P can lock in closed and open positions. Their lock can only be released by activating the secondary locking system. They are available with untapped -P or tapped (metric -PTM or standard -PT) toggle bars. The locking system is fully integral and designed into clamp linkage and built to withstand extreme vibration and impact without failure, making these locking clamps very reliable.
The CQ-1115-P locking clamp can handle a 2,100 lb. capacity, it has a weld base and solid toggle bar. The CQ-1115-P locking clamp is available now for $99.97. These strong durable locking clamps can handle any job and work great in a wide variety of industries such as aerospace, automotive, industrial, electrical and more!
The CQ-915-P locking clamp can handle up to 2,750 lb. capacity. Like the CQ-1115-P, it also has a weld base, solid toggle bar and a "P" locking system. Lapeer Manufacturing Company has 2-D and 3-D drawings available for the clamp. Click here for the 2-D drawing or here for the 3-D drawing. The CQ-915-P locking clamp is available for $118.01, order yours today!
Lapeer Manufacturing has been creating quality, durable locking and toggle clamps for decades. We have extensive experience in manufacturing clamps for all types of industries. We carry air operated, hold down, linear and squeeze clamps just to name a few. With two great brands to choose from, Knu-Vise and Wolverine, it is no wonder why Lapeer Manufacturing is one of the nations leaders in clamp manufacturing.
If you have questions or would like to learn more about Lapeer Manufacturing, give us a call today at 1-800-826-1428 and we will be happy to answer any questions you might have.