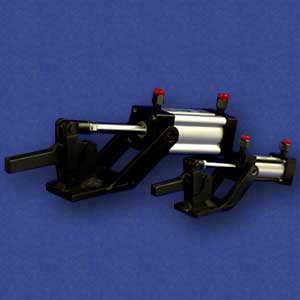 Lapeer Manufacturing's Wolverine brand of clamps specializes primarily in heavy duty clamps. Clamps such as Hold Down and Linear Action clamps are a staple of the Wolverine brand clamps. These rugged heavy duty clamps are built with quality drop forged and billet components and are always tough and reliable.
These heavy-duty clamps are built to last and will work and preform above standard in even the toughest conditions. The Wolverine clamps can be used in a variety of industries from automotive to aerospace. Ideal for industry use, these clamps are versatile and tough!
Heavy-Duty Clamps Hold Down Action
The hold-down clamp is used to apply a downward clamping force. Some of the great benefits of a hold down clamp are the ability for easy loading and unloading with a large variety sizes and load capacities to choose from. With a Lapeer Manufacturing clamp you will appreciate just how strong and durable the clamp actually is and how it can handle any heavy duty clamping job.
Heavy-Duty Clamps Linear Action
The heavy duty linear action clamps are designed to be mounted to a surface then they apply a clamping force toward or away from the surface they are mounted to.  Linear action clamps are also known as straight line clamps. A few of the features a linear clamp offers are the ability to easily operate the push or pull handle of the clamp. Our linear action clamps can handle very large load capacity. some up to a 10,000 lb capacity!
Heavy-Duty Clamps Air Operated
The Wolverine brand of  heavy duty air operated clamps are designed to provide higher clamping forces and longer life cycles for jobs that require it. These clamps use air-actuated cylinders to provide the clamping action. These clamps have a capacity of up to 2750 lb and the toggle bar is drilled and tapped to make the clamp durable and long lasting.
Lapeer Manufacturing has been one of the countries top clamp manufacturers for decades, and offers quality products at reasonable prices. Contact us today and see what Lapeer Manufacturing can do for you!