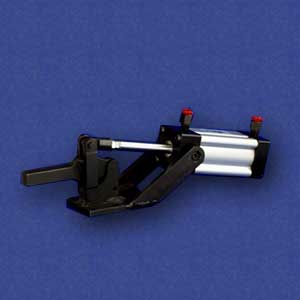 Some jobs just call for a more durable heavy-duty clamp.  That is where our Wolverine brand clamps come into play. Acquired in 2009 by Lapeer Manufacturing, the Wolverine line of clamps are designed for the most rugged line of work. Also, they are designed to withstand any size workload. Our Wolverine clamps are produced from top quality drop forged and billet components that are guaranteed to get the job done.
The Wolverine Heavy-Duty Pneumatic Clamps
The Wolverine heavy-duty pneumatic hold down clamp are made for jobs that need longer life cycles and higher clamping force. Also, they are available with a holding capacity of 750 lb and all the way up to 2.750 lb holding capacity. These pneumatic clamps have a horizontal mount and a solid toggle bar that is built to last.
Buying in bulk can always save you money, at Lapeer Manufacturing we offer discounts on bulk orders. Any order of 10 or more of a clamp can get a price reduction. Give us a call to find out more about our bulk order reduction rates at 1-800-826-1428
The Wolverine pneumatic hold-down clamps are available in many models. Models such as:
Our pneumatic clamps are the industries best. The Wolverine heavy-duty clamps are always the best bang for your buck. They deliver a constant performance that most other clamp manufacturers just cannot deliver on.  Also, with our extensive history of clamp manufacturing, Lapeer Manufacturing is the clear choice for industrial heavy-duty clamps.
Besides the pneumatic hold-down clamp from our Wolverine line, we also offer the new locking series clamp. The Wolverine positive locking clamps that feature a safety locking system. Because fo this they can be locked in the closed or open position. Finally, if you have any questions or would like to place an order for any of our heavy-duty Wolverine clamps give us a call at 1-800-826-1428 or use our contact form today!