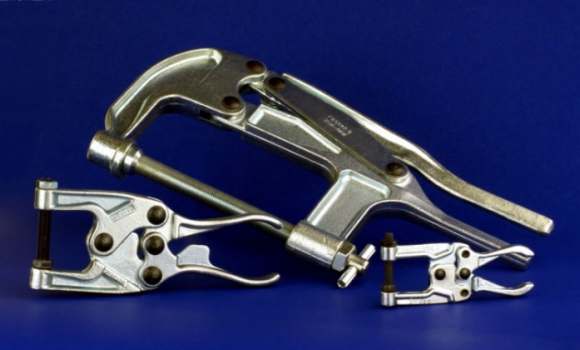 Lapeer Manufacturing has been one of the nation's leading clamp distributor for decades. Our clamps are used in a wide variety of industries from tool and die to trailer manufacturing industry, with the sturdy construction and dependability of our clamps, Lapeer Manufacturing is the first choice in many industries. Clamps are a important component in the metal manufacturing and construction fields. Our heavy-duty clamps help maintain consistent pressure to keep items in place for long periods of time while preventing deforming and warping.
Lapeer Manufacturing clamps are used in these industries:
Industrial Fabrication
Construction
Tool & Die
Trailer Manufacturers
Mining
Plumbing
And Many More!
Nationwide Clamp Distributors for Industries
Lapeer Manufacturing has been a clamp manufacturers since 1946, and our clamps are used all over the country. We supply toggle clamps and other types of clamps to areas such as Chicago, New York, Boston, Columbus and other major areas.  Lapeer Manufacturing Company offers two brands, Knu-Vise and Wolverine. Knu-Vise is the original line of clamps produced since 1946. The Knu-Vise line offers Air Operated, Hold Down, Linear and Squeeze Clamps, these clamps offer superior performance at a great value.
The other line of clamps we offer are the Wolverine line, which was acquired in 2009. The Wolverine line has Air Operated, Hold Down and Linear clamps. Wolverine clamps are built for heavy-duty service, created from quality drop forged and billet components, these rugged, durable clamps will get the job done no matter the size. Wolverine clamps are capable of huge holding capacities that provides the peace of mind you have the right clamp for the job.
Companies such as Tridan International, use our clamps to help build their machines.
If already own a Lapeer Manufacturing clamp, but you are just looking for accessories for it, we can help you find the right part. We sell accessories for almost all our clamps, just visit our accessories page and you can find parts for Knu-vise or Wolverine clamps. If you have any questions about Lapeer Manufacturing clamps you can contact us or give us a call at 1.800.826.1428.