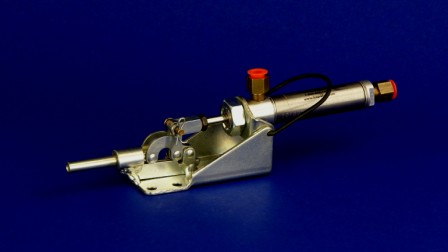 At Lapeer Manufacturing we offer two types of Wolverine Pneumatic Clamps, hold down and linear.  A pneumatic hold down clamp has activating force for over the center toggle clamp which applies pressure from the top. The pneumatic linear clamps are used to apply pressure in a vertical angle in a straight line clamping action.
These types of pneumatic clamps are air operated. Air operated clamps preform similar to their manual counter parts. The difference is the air operated are activated by a pneumatic cylinder instead of a manual force. What a linear action mean is the clamp uses a pushing or pulling force parallel to the clamps mounting surface.  Where a hold down clamp applies force in a downward direction perpendicular to the clamps surface.
Both of the pneumatic clamps hold down and linear are air operated clamps. These clamps can be used for any number of industries such as:
Automotive
Industrial
Aeronautics
Military
Electrical
And Many Others
Pneumatic Linear Clamps or Hold Down Clamps
Not only do we have pneumatic clamps in the Wolverine brand for heavy duty use. We also carry pneumatic clamps in the Knu-Vise brand both hold down and linear.  No matter what size job you need a clamp for our pneumatic linear clamps and our pneumatic hold down clamps can make your job easier.
If you are looking for a more rugged and geared to heavy duty type job, then we suggest the Wolverine pneumatic clamps. For more medium duty type situations, the Knu-Vise pneumatic clamps are the right choice for that.
No matter if you are looking for a hold down or a linear clamp, here at Lapeer Manufacturing we have the right clamp for you. If you need more information on our clamps or would like an estimate on a clamp order, feel free to use our easy form. We are always looking forward to hearing from potential or returning customers!