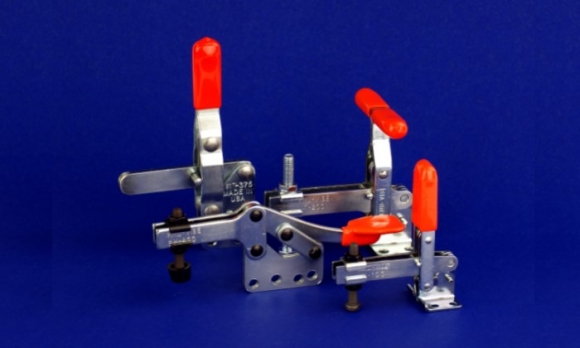 An adjustable toggle clamp and toggle clamps, in general, have a variety of names. They can be known as hold-down clamps, quick release clamp, and over-center clamp among some of the names. Essentially a toggle clamp is a fastening device composed of a handle, a holding bar, and a linkage system. Also, once it is fully engaged, the clamp becomes locked, until released. There are usually five main categories of adjustable toggle clamps.
Main Adjustable Toggle Clamp Categories
There are many advantages is using a toggle clamp. First of all, there is a time-saving advantage. The clamping and releasing action are quick and easy which saves time. In addition, durability is another great advantage. Our clamps are rugged and durable which can withstand any workload for years to come. Another great advantage is the low maintenance to maintain a toggle clamp. Usually, no maintenance is required to keep the clamps working, but a small drop of lubricating oil may help from time to time.
Lapeer Toggle Clamp Cost Advantage
Finally, one of the best advantages is the cost savings of using a toggle clamp. At Lapeer Manufacturing, our clamps are reasonably priced and will last you a very long time. There is no better return on investment when it comes to your tools and equipment. Also, we offer tax exempt status for our customers that qualify.  If you would like to learn more about our clamps or would like to inquire about a bulk order discount, please contact us today or give us a call at 1-800-826-1428.
Here at Lapeer Manufacturing Company, we can provide you with the best clamps you need for your industry. Our clamps are used in a wide variety of industries such as automotive, aerospace, welding and many more.